classicalmusicnow.com, the home of Musik Fabrik Music Publishing
Welcome to our website
---
---
Robert Orledge's new revision and orchestration for Debussy's Rhapsodie Mauresque for alto saxophone and orchestra has just been released. Piano reduction and full score are available for sale. Parts are on rental
---
Frederick Frahm: Ghost Canyon for string quartet
---
Musik Fabrik is proud to announce the publication of two volumes of previously unknown works by Claude Debussy completed by Robert Orledge. These works have been recorded by Nicolas Horvath for Naxos: Grand Piano. You can find out more by visiting this special page.
---
Musik Fabrik is proud to announce the premičre of an important work for string orchestra by noted American composer Gregory Sullivan Isaacs. The work, entitled «Night Into Dawn » was commissioned by Gary Levinson (Senior Principal Associate Concertmaster of the Dallas Symphony) for The Violins of Hope, Miami and The Young Israel Congregation and The Shul of Bal Harbour. The work will be premičred on December 2nd, 2019 at 8 P.M. at The Shul Sanctuary, 9540 Collins Avenue, Surfside, FL
The Violins of Hope are violins that were played by Jews during the Holocaust and have been restored by Amnon Weinstein. Night Into Dawn is a programmatic work that describes the Night, the decent of anti-Semitism, the brutality of the Holocaust and the Dawn, the renewal of the Jewish spirit.
"Since the Violins of Hope project is about the restored instruments, I decided to write individual and unique parts for each player rather than dividing them into larger groups such as first and second violins," said Isaacs. The piece lasts about 12 minutes and Isaacs will conduct this world premiere performance.
Violinist Gary Levinson will sit in the solo violin chair and also act as concertmaster. "Gary and I are close friends and I am grateful for his energy that made this all possible," said Isaacs.
---
Just released: the new edition of Claude Debussy's Poème for violin and orchestra, completed by Robert Orledge
orchestration: 21EH22/4200/timp/1perc(susp. cym;/trangle)hp/strings (minimum 12.10.8.6.4) with solo violin
duration: aprox: 10'00"
Hear a live performance:
Debussy's close friendship with the American violinist Arthur Hartmann (1881-1956) began in 1908, and in the summer of 1910 they planned an American tour of 24 East Coast cities during January-February 1912. During this tour, Debussy was to "conduct the orchestra, an opera of my composition [possibly at this stage The Fall of the House of Usher], or play the piano." And in every concert, Hartmann was to perform Debussy's specially composed Poème pour violon et orchestre as the main highlight of the evening. Although the fee of $15000 that Debussy demanded eventually proved too high for the organisers, he wrote two themes for the Poème in 1910, and in January 1914, when he arranged his piano prelude Minstrels for 'piano et Hartmann', he added three more, quite extended, and motivically linked themes. As in the case of his sketches for the contemporary ballet No-ja-li, these were virtually all the material necessary for him to complete the work, and as Debussy had no hesitation in asking other composers, such as André Caplet, Charles Koechlin and Henri Busser, to help him complete or orchestrate his works in the 1910-14 period, Robert Orledge decided to complete this masterful work, which was premièred in its final form on 4 March 2013 by Isabelle Faust (Vln), with Orchestre de Lyon, conducted by Heinz Holliger. For more infromatino and for links to purchase scores/piano reductions, please visit this page.
---
Musik Fabrik is pleased to announce the pubilcation of Gregory Sullivan Isaac's opera for tenor and piano Henry Faust Second act aria (In the witches kitchen. Faust demands, then drinks, the youth potion. The devil conjures the image of Gretchen). See the full opera here.
Described as a "tour de force"  during the opera's initial run of performances "Henry Faust" by Gregory Sullivan Isaacs is a three-act, one character opera based on Goëthe's play as translated by Anna Swanwich (1859) with a libretto by the composer. It was premièred at the Circle Theatre in Chicago on April 11, 1993 with the Composer as Faust and Kevin Hinton, pianist. To find out more about the opera and purchase a score, please visit
this page
on our website.
---
Musik Fabrik is pleased to announce the publication of an album of songs for bass voice and piano by Franz Liszt. This edition of songs by Franz Liszt (1811–1886) includes all of the scores recorded by bass Jared Schwartz and pianist Mary Dibbern for the CD Franz Liszt: Songs for Bass Voice and Piano, Toccata Classics 0441, released October 2017 and recently named "BEST LIEDER RECORDINGS OF 2017" by La Voix Des Arts. This is the first CD of songs by the composer with a selection for bass voice with all but one song transposed to fit the low-voice range. A complete version of the following excerpted notes, along with the translations of the poems into English, is included in the CD booklet. The album is divided into two volumes: Vol. 1: songs in German and Vol. 2 : songs in Italien, English and French.
The selections in this edition and on the CD are the first recorded performances of any of his voice-piano music by a bass voice, and all but one are transpositions to low-voice keys. The songs represent four of the six languages that Liszt set: German (7), French (3), Italian (1), and English (1). They are also examples of the stylistic and dramatic variety of three distinct periods that musicologists often use to describe Liszt's musical production. The performers chose three songs from the Early Period (1838–1847) that includes the years of his rising fame as a piano virtuoso; five from the Weimar Period (1848–1858), when he abruptly left the concert stage to accept the post of Kappelmeister in the Weimar court; and finally, four from the Last Period (1870–1886), which began after Liszt left Weimar and took minor orders in the Catholic church. Throughout his career, Liszt wrote complex vocal music with a two-octave ambitus and dynamics ranging from the most delicate ppp to a roaring ff. His songs transformed the previously limited vocal tessaturas and range of dynamics found in the music of his contemporaries' 19th-century chamber music salons.
The centerpiece of both the song sollection and the CD recording is Le Juif errant ("The Wandering Jew") (S.300), poem by Pierre-Jean de Béranger (1780–1857), which was Liszt's last song before his 1848 move to Weimar. The accompaniment is derived from his piano solo of 1840, the étude de perfectionnement (S.142). Its musical material also appears in the later (1852) piano solo Ab irato—étude de perfectionnement de la Méthode des Méthodes (S.143). The seperate edition for Bass-baritone is in the original key of e minor. These are all available in our art song catalog
---
Gian Paolo Chiti wrote his newly publisehd work "Play on B.A.C.H." for the Moreno Gistain Duo, who premièred the work on the 28th February, 2015, for the concert season of the Fundación Juan March in Madrid. It was also recorded for Spanish National Radio. Juan Fernando Moreno Gistain wrote of the work: "It´s an honour for us that Maestro Chiti composed "Play on B.A.C.H." for our concert programme dedicated to works based on the motif formed by the notes B.A.C.H. "Play on BACH" is a wonderful piece for piano duo and we are sure many duos will perform this in the future. The work has an amazing feeling of nostalgia, humour and charm; the audience loved it at every performance. It´s a masterwork and fits incredibly well in our concert programme."
---
Musik Fabrik is happy to annouce an important series of publications of songs by the French composer Ange Flégier. This project originated with the recording "Ange Flégier: Mélodies for Bass Voice and Piano" with American bass Jared Schwartz and pianist Mary Dibbern. They located out-of-print scores of songs especially suited to bass voice and then collaborated with us for the editing process. A number of Flégier's songs in medium and low keys will be available shortly, in addition to a volume of songs for bass voice that corresponds to the recording. Those titles are listed below. The recording was released in September 2016 by Toccata Classics (London).
---
Musik Fabrik is pleased to announce the release of a new collection of recordings for guitar by David W. Solomons;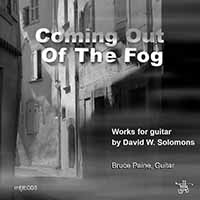 Coming Out of the Fog - Music for guitar by David W. Solomons performed by Bruce Paine (2015 rel; CD recording)
Contains David W. Solomons; : 01. Coming out of the fog 02. Prelude no 2 03. Spider's web 04. Variations on Twinkle Twinkle 05. Variations on Sweet Kate 06. Romance for Pamela 07. Soliloquy 08. Calypso 09. The Good tempered guitars 10. Sonata in Ripon 11. Blues Rondo
performed by Bruce Paine, guitar

The complete notes are on this page
JTBProd (Catalogue #JTBProd008)

Available from your local record dealer and all online sources where recordings are sold.

Select an online location for purchase:
---
Musik Fabrik is very pleased to announce the release of Thérè Brenet's new orchestral CD, just in time for her 80th birthday in October:
Thérèse Brenet : Le Livre de L'Harmonie du Monde (2015 rel; CD recording)
Contains Le Livre de L'Harmonie du Monde for orchestra, A Thing of Beauty is a Joy Forever for alto saxophone and strings, Po&eagrave;me de Jade for baritone, flute and orchestra, Perles d'Ambre for female voice and orchestra, Ces Hautes Mélodies dans le Paradis que nous avons perdu double concerto for viola, violoncello and orchestra, and La Nuit du Fossoyeur for baritone and orchestra
National Polish Radio Symphonic Orchestra in Katowice; Paul Wehage, conductor; Eric Zorgniotti, conducteur; Aurélie Deschamps, viola; Isaure Equilbez, mezzosoprano; Kurt Ollmann, baritone; Chistel Rayneau, flute; Paul Wehage, saxophone; Eric Zorgniotti, violoncello

The complete notes are this page
JTBProd (Catalogue #JTBProd004)

Available here :
Euro 22,95 (plus Euro 4,50 frais de port)
and from your local record dealer and all online sources where recordings are sold.
Select an online location for purchase:
---